About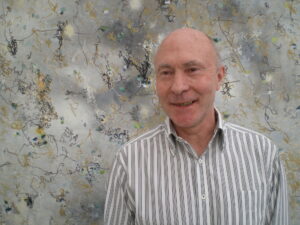 William Henderson
Born 12 February 1941, Ringmer, Sussex.
Died 26 September 2019, Beckenham, Kent
William, later known as Bill, studied at Brighton College of Art from 1959-1963, and at the Slade School of Art from 1963-1965.
From 1965-1981, he was visiting tutor at Winchester School of Art, Chelsea College of Art and at the Faculty of Fine Art, South Glamorgan Institute, Cardiff.
From 1981-2002, he was a Senior Lecturer in Fine Art at Central Saint Martins College of Art & Design.
Bill Henderson has paintings in many public collections including Tate Britain, the V&A, the Arts Council of England, The Contemporary Art Society, The European Parliament and The Qingdao Art Museum, China.
During his career as an artist he exhibited in shows such as the Hayward Annual, the Serpentine Summer Show, The Royal Academy Summer Shows and the John Moores Liverpool Exhibition. His paintings have been exhibited in the United States, China and Europe.
Professional Bodies
1990 The London Group
2007 Royal Watercolour Society
Awards
2007 2nd Prize – St Cuthberts Mill Award, Royal Watercolour Society, London
1987 Athena Art Award – Barbican Art Gallery, London
1983 Prize Winner – Tolly Cobbold Eastern Arts 4th Annual Exhibition, Cambridge
1979 Mention Special du Jury – 11eme Festival de la Peinture, Cagnes-sur-Mer, France
1976 The Arts Council of England, Arts Council Nominee
Paintings in Public Collections
Arnolfini Collection, The Arnolfini Art Gallery, Bristol
Arts Council of Great Britain
Bradford City Art Gallery and Museum
British Land Collection
Cocoa Merchants, London
Leeds City Art Gallery
Leicestershire Education
Mobil Oil Collection, Mobil House London
Westminster Bank Collection
Pearl Assurance
Qingdao Museum, China
Tate Britain
The Victoria and Albert Museum (Prints)
The Whitworth Art Gallery, Manchester
Solo Exhibitions:
2022 MOMA Machynlleth (Paintings with Woven Responses by Vicky Ellis)
2016 Cello Factory Gallery, London
2015 Bankside Gallery, London
2007 APT Gallery, Deptford London
1991 Gardner Arts Centre, Brighton
1983 Mid-term Retrospective, Arnolfini Gallery, Bristol
1979, 1980 & 1982 Birksted Gallery, London
Group Exhibitions:
2022 'Hidden', Flowers Gallery, London
2017 Royal Academy Summer Exhibition, London
2016 /17 International Watercolour Biennale, Qingdao Museum, Qingdao, China
2012 New Possibilities: Abstract Paintings from the Seventies, The Piper Gallery, London
2008 Royal Academy Summer Exhibition, London (also: 1986, 1987, 1989, 1990, 1992, 1996, 1997, 1998, 1999, 2000, 2001 & 2005)
2003 Hunting Art Prizes, Royal College of Art, London
1982 Contemporary Choice, Contemporary Art Society, Serpentine Art Gallery, London
1982 Birksted Gallery, New York
1979 Hayward Annual Exhibition, Hayward Art Gallery, Southbank, London
1978 'Tendences Nouvelles', Brussels
1975 Serpentine Summer Show, No.3, Serpentine Art Gallery, London
1972 'Drawing', Museum of Modern Art, Oxford
1970 &1974 John Moores Liverpool Exhibition, Walker Art Gallery, Liverpool